Lighting Ideas For Your Living Room
All Sweetness and Light
When you need lighting ideas for your living room, you need a sweet lighting plan (as in good!).  And a sweet lighting plan for any room has three layers of lighting. The first layer of lighting (and the one that comes standard with most homes) is overall lighting. It is the light that provides a comfortable level of brightness. This allows you to see and walk around. The next layer of lighting is task lighting and like its name implies it allows you to do specific tasks, like reading, cooking, doing homework or crafts. The last layer of lighting is accent lighting and it lights up those important focal points I am always talking about, like artwork or plants.
 Lighting Ideas For Your Living Room: Layer One
If your living room doesn't have overhead lighting like ceiling mounted fixtures or recessed down lights, get some installed. They aren't that expensive and you can easily find a handyman or electrician to install them (don't try installing them yourself).  The average living room will be just fine with four recessed downlights at each corner, but make sure they are dimmable. If your ceiling heights are over nine feet, create a nice surprise by hanging a chandelier. Place it over the coffee table for added drama and as a way to fill the volume of emptiness that tall ceilings create. It will make your room feel more elegant and cozy at the same time.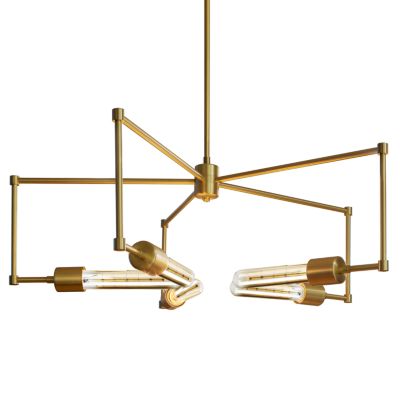 Boomer Chandelier by Stone Lighting from: Lumens.com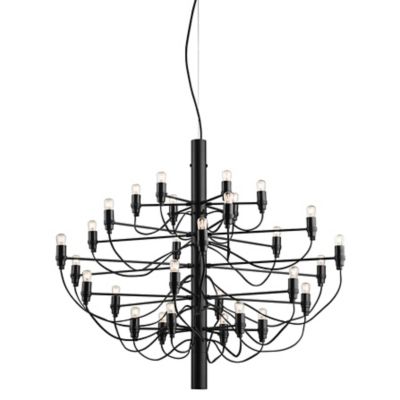 Model 2097/30 Chandelier by Flos Lighting from: Lumens.com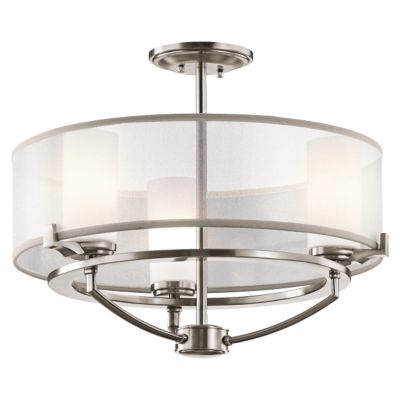 Saldana Semi-Flushmount by Kichler from: Lumens.com
Lighting Ideas For Your Living Room: Layer Two
The easiest and quickest way to add task lighting is to put two table lamps on the end tables. Or one table lamp on an end table and one behind the sofa on the sofa table. They can be matching for a more sophisticated look or mismatched for an eclectic feel. Add a third floor lamp and you will create a nice soft even glow around your room. For table lamps, I like the round tulip shaped glass lamps either in an opaque colored glass or translucent clear glass.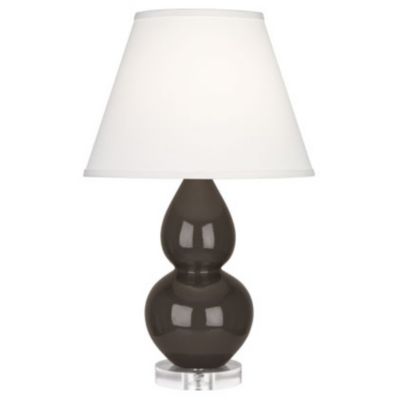 Double Gourd Table Lamp by Robert Abbey from: Lumens.com
Merseyside Table Lamp by Currey & Company from: Lumens.com
Vance Candlestick Table Lamp by Arteriors from: Lumens.com
Lighting Ideas For Your Living Room: Layer Three - Accent
Although accent lights are not necessary, they definitely add glow and ambiance. For instance two tall skinny candlestick lamps look good on the fireplace mantle. Tuck inexpensive puck lights in the planter pots to uplight the foliage. Putting tape lights in bookshelves creates pockets of light and dark. Wall sconces are one of the best ways to focus lighting in a very specific direction allowing light to add drama to your living room. And when you have the handyman put in the recessed can lights, have one or two wall washers installed (they are like can lights, but can be rotated to pinpoint the light on an object) in front of the fireplace or over artwork.
Battery Operated Slim-Line Picture Light by House Of Troy from: Lumens.com
Stonybrook Wall Sconce by ELK Lighting from: Lumens.com
Do you need some help getting lighting for your living room ideas? In the Design Workshop we have loads of lighting catalogs, why don't you make an appointment to stop by and we can help you pick out that so so perfect lighting plan.
Are you on da' list? Well, you better subscribe right now to get design'ish deets delivered straight to your in-box. You will not only know about the latest blog before anyone else, but you will get design advice that only the elite group on the list get each Wednesday.
[gravityform id="3" title="true" description="true"]